BELONG. GROW. SERVE.
When you worship with us in Traditional Worship at Bluff Park UMC, you will experience a friendly and relaxed form of historic Christian worship in a beautiful sanctuary designed for choral music. You will hear beautiful music from our Sanctuary Choir and our historic pipe organ. Dress is typically semi-formal, but wear what makes you most comfortable and know that you are welcome no matter what. Be sure to stop by the Welcome Desk near the sanctuary to find out more information!
Join us Live
Join us every Sunday at 10:00 am CST for our Traditional Worship Service broadcast live from our Sanctuary.
Traditional Worship
First Sunday of Advent
November 27, 2022
Altar Flowers
The altar flowers are dedicated to the Glory of God and given with grateful thanksgiving in memory of Julia and Fred McCallum and Dottie and Bill Moehle by Debra McCallum.
A personal prayer to help you prepare your heart and mind for worship this morning:

Our Lord Christ: We remember – O little town of Bethlehem, how still we see thee lie; above thy deep and dreamless sleep, the silent stars go by. Yet, in thy dark streets shines an everlasting light, as we prepare to receive thee gift of the Christ anew. Truly, the hopes and fears of all the years are met, in thee, O Jesus, tonight. Amen.
Prelude
Welcome and Announcements
Choral Introit
"O Come Let Us Adore Him"
*Processional Carol No. 234 verses 1, 2, & 3
"O Come, All Ye Faithful"
*Affirmation of Faith
Let us affirm that which we believe together by using this ancient and historic confession of the Christian Faith, the Nicene Creed:
We believe in one God, the Father, the Almighty, maker of heaven and earth, of all that is, seen and unseen. We believe in one Lord, Jesus Christ, the only Son of God, eternally begotten of the Father, God from God, Light from Light, true God from True God, begotten, not made, of one being with the Father; through him all things were made. For us and for our salvation he came down from heaven, was incarnate of the Holy Spirit and the Virgin Mary and became truly human. For our sake he was crucified under Pontius Pilate; he suffered death and was buried. On the third day he rose again in accordance with the Scriptures; he ascended into heaven and is seated at the right hand of the Father. He will come again in glory to judge the living and the dead, and his kingdom will have no end. We believe in the Holy Spirit, the Lord, the giver of life, who proceeds from the Father and the Son, who with the Father and the Son is worshiped and glorified, who has spoken through the prophets. We believe in the one holy catholic and apostolic church. We acknowledge one baptism for the forgiveness of sins. We look for the resurrection of the dead, and the life of the world to come. Amen.
*Deus Verus
True God of True God, Light from Light Eternal, lo, he shuns not the Virgin's womb; Son of the Father, begotten, not created; O come let us adore him, O come let us adore him, O come let us adore him, Christ the Lord! 
Offering
Offertory
*Doxology – Presentation of our Tithes and Offerings No. 95
Praise God, from whom all blessings flow; praise him, all creatures here below; praise him above, ye heavenly host; praise Father, Son, and Holy Ghost. Amen.
Silent Prayer/Pastoral Prayer
The Lord's Prayer
Our Father who art in heaven, hallowed be thy name, thy kingdom come, thy will be done on earth as it is in heaven. Give us this day our daily bread; and forgive us our trespasses as we forgive those who trespass against us. And lead us not into temptation, but deliver us from evil, for thine is the kingdom, and the power and the glory forever. Amen.
The Hanging of the Green
How shall we prepare this house for the coming of the King?
With branches of cedar, the tree of royalty.
How shall we prepare this house for the coming of the eternal Christ?
With wreaths and garlands of pine and fir, whose leaves are ever green, ever living.
How shall we prepare this house for the coming of our Savior?
With the holly and the ivy, telling of his passion, death, and resurrection.
How shall we prepare our hearts for the coming of the Son of God?
By hearing again the words of the prophets, those who foretold the saving work of God.
For God did not send the Son into the world to condemn the world, but that the world through him might be saved.
Gloria in excelsis Deo! Glory to God in the highest!
God Will Send Us a Righteous King – Jeremiah 23:5-6
The days are surely coming, says the Lord, when I will raise up for David a righteous Branch, and he shall reign as king and deal wisely, and shall execute justice and righteousness in the land. In his days Judah will be saved and Israel will live in safety. And this is the name by which he will be called: 'The Lord is our righteousness.'
In ancient times the cedar was revered as the tree of royalty. It also signified immortality and was used for purification. We place this cedar branch as a sign of Christ, who reigns as King forever, and who's coming, in justice and righteousness, will purify our hearts.
Congregational Response verse 1
"O Come, O Come Emmanuel"
O come, O come Emmanuel and ransom captive Israel,
that morns in lonely exile here until the Son of God appears.
Rejoice! Rejoice! Emmanuel shall come to thee, O Israel!
The Prophet Declares a Child Will Be Born – Isaiah 9:2,6-7
The people who walked in darkness have seen a great light; those who lived in a land of deep darkness— on them light has shined. For a child has been born for us, a son given to us; authority rests upon his shoulders; and he is named Wonderful Counselor, Mighty God, Everlasting Father, Prince of Peace. His authority shall grow continually, and there shall be endless peace for the throne of David and his kingdom. He will establish and uphold it with justice and with righteousness from this time onwards and for evermore. The zeal of the Lord of hosts will do this.
Because the needles of pine and fir trees appear not to die each season, the ancients saw them as signs of things that last forever. Isaiah tells us that there will be no end to the reign of the Messiah. Therefore, we hang this wreath of evergreens shaped in a circle, which itself has no end, to signify the eternal reign of Jesus, the Christ.
Congregational Response verse 2
"O Come, O Come Emmanuel"
O come, thou wisdom from on high, and order all things far and nigh;
to us the path of knowledge show and cause us in her ways to go.
Rejoice! Rejoice! Emmanuel shall come to thee, O Israel!
The Servant Song – Isaiah 53:1-6
Who has believed what we have heard? And to whom has the arm of the Lord been revealed? For he grew up before him like a young plant, and like a root out of dry ground; he had no form or majesty that we should look at him, nothing in his appearance that we should desire him. He was despised and rejected by others; a man of suffering and acquainted with infirmity; and as one from whom others hide their faces he was despised, and we held him of no account. Surely he has borne our infirmities and carried our diseases; yet we accounted him stricken, struck down by God, and afflicted. But he was wounded for our transgressions, crushed for our iniquities; upon him was the punishment that made us whole, and by his stripes we are healed. All we like sheep have gone astray; we have all turned to our own way, and the Lord has laid on him the iniquity of us all.
For Christians, this passage reflects on the sufferings of Jesus, who saved us from our sins by his death on the cross and by his glorious resurrection. In ancient times, the holly and ivy were considered signs of Christ's passion. The prickly leaves remind us of the crown of thorns, and the red berries the blood of the Savior; the bitter bark, the drink offered to our Lord on the cross. As we place the holly and the ivy, let us rejoice in the coming of our Savior.
Congregational Response verse 4
"O Come, O Come Emmanuel"
O come, thou root of Jesse's tree, and ensign of thy people be;
before thee rulers silent fall; all peoples on thy mercy call.
Rejoice! Rejoice! Emmanuel shall come to thee, O Israel!
The Mystery of the Incarnation – John 1:1-5, 9-14
In the beginning was the Word, and the Word was with God, and the Word was God. He was in the beginning with God. All things came into being through him, and without him not one thing came into being. What has come into being in him was life, and the life was the light of all people. The light shines in the darkness, and the darkness did not overcome it. The true light, which enlightens everyone, was coming into the world. He was in the world, and the world came into being through him; yet the world did not know him. He came to what was his own, and his own people did not accept him. But to all who received him, who believed in his name, he gave power to become children of God, who were born, not of blood or of the will of the flesh or of the will of man, but of God. And the Word became flesh and lived among us, and we have seen his glory, the glory as of a father's only son, full of grace and truth.
As we prepare for the coming of Jesus, the Light of the World, we light this Christmon tree. During this Advent, whenever you see a lighted Christmas tree, let it call to mind the One who brings light to our darkness, healing to our brokenness, and peace to all who receive him.
Congregational Response verse 6
"O Come, O Come Emmanuel"
O come, thou Dayspring, come and cheer our spirits by thy advent here;
disperse the gloomy clouds of night, and death's dark shadow put to flight.
Rejoice! Rejoice! Emmanuel shall come to thee, O Israel!
The Blessing of the Chrismon Tree – Titus 3:4-7
But when the goodness and loving-kindness of God our Savior appeared, he saved us, not because of any works of righteousness that we had done, but according to his mercy, through the water of rebirth and renewal by the Holy Spirit. This Spirit he poured out on us richly through Jesus Christ our Savior, so that, having been justified by his grace, we might become heirs according to the hope of eternal life.
Holy Lord, we come with joy to celebrate the birth of your Son, who rescued us from the darkness of sin by making the cross a tree of life and light. May this tree, arrayed in splendor, remind us of the life-giving grace of Christ, that we may always rejoice in the new life that shines in our hearts. We bless this Chrismon Tree to that end, in the name of the Father, Son, and Holy Spirit.
Amen.
Congregational Response verse 7
"O Come, O Come Emmanuel"
O come, Desire of nations bind all peoples in one heart and mind.
From dust thou brought us forth to life; deliver us from earthly strife.
Rejoice! Rejoice! Emmanuel shall come to thee, O Israel!
The Blessing of the Crèche – Luke 2:1-7
In those days a decree went out from Emperor Augustus that all the world should be registered. This was the first registration and was taken while Quirinius was governor of Syria. All went to their own towns to be registered. Joseph also went from the town of Nazareth in Galilee to Judea, to the city of David called Bethlehem, because he was descended from the house and family of David. He went to be registered with Mary, to whom he was engaged and who was expecting a child. While they were there, the time came for her to deliver her child. And she gave birth to her firstborn son and wrapped him in bands of cloth, and laid him in a manger, because there was no place for them in the inn.
Almighty God, from the very beginning of creation you have made manifest your love. When our need for a Savior was great you sent your Son to be born of the virgin Mary. To our lives he brings joy, peace, hope, justice, mercy, and love. Lord, bless all who look upon this manger. May it remind us of the humble birth and life of Jesus, and raise up our thoughts and hearts to him, who is Emmanuel, God with us, and Savior of All. In the name of the One who lives and reigns forever and ever; Father, Son, and Holy Spirit.
Amen.
Congregational Response verse 5
"O Come, O Come Emmanuel"
O come, thou Key of David, come, and open wide our heavenly home.
The captives from their prison free, and conquer death's deep misery.
Rejoice! Rejoice! Emmanuel shall come to thee, O Israel!
The Blessing of the Advent Wreath
Christ came to bring us salvation and has promised to come again. Let us pray that we may always be ready to welcome him.
Come, Lord Jesus.
That the keeping of Advent may open our hearts to God's love.
Come, Lord Jesus.
That the light of Christ may penetrate the darkness of sin.
Come, Lord Jesus.
That this wreath may constantly remind us to prepare for the coming of Christ.
Come, Lord Jesus.
That the Advent and Christmas Seasons my fill us with peace and joy as we strive to follow the example of our Jesus. Loving God, your Church joyfully awaits the coming of its Savior, who enlightens our hearts and dispels the darkness of ignorance and sin. Pour forth your blessings upon us and upon this Advent wreath, as we light its candles and hear the message it signifies to us. May their light reflect the splendor of your Christ, who is our Savior and Lord, forever and ever.
Amen.
Lighting of the Advent Wreath: The Candle of Hope
Hear now the words from the prophet Isaiah, from the 60th chapter, verses 2 and 3.
"For darkness shall cover the earth, and thick darkness the peoples; but the Lord will arise upon you, and his glory will appear over you. Nations shall come to your light, and kings to the brightness of your dawn."
(The Hope Candle is Lit)
Today, we light this first candle on our advent wreath as a symbol of Christ our Hope.
May the Light sent from God shine in our darkness to show us the way of salvation.
O come, O come, Emmanuel – God with us. Amen.
Congregational Response
Rejoice! Rejoice! Emmanuel shall come to thee, O Israel!
Choral Anthem
"Come Thou Long Expected Jesus"
Robert Hobby
Call to Confession
Christ our Lord invites to his table all who love him, who earnestly repent of their sins, and seek to live in peace with God and each other. Therefore, let us confess our sin before God and each other:
Prayer of Confession
Merciful God, as we enter this holy season of preparation, we confess to you that we have failed to love you with our whole hearts, we have failed to love others as you love, and we fail to follow your will. Forgive us, we pray. Free us for joyful obedience through Jesus Christ our Lord. Amen.
Assurance of Forgiveness
Hear the good news! Christ died for us while we were yet sinners. That proves God's love toward us. In the name of Jesus Christ you are forgiven.
In the name of Jesus Christ you are forgiven. Glory to God. Amen.

The Celebration of the Sacrament of Holy Communion
The Great Thanksgiving
Sanctus and Benedictus
Words of Institution
Prayer for the Spirit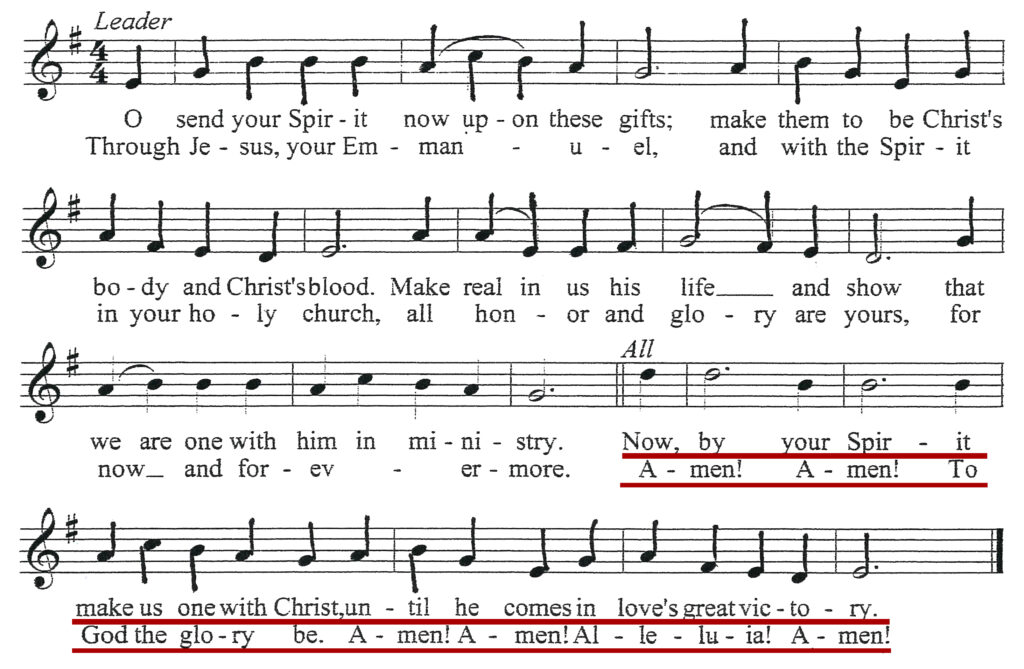 Lamb of God
Prayer After Communion
*Carol of Commitment No. 216
"Lo, How a Rose E'er Blooming"
*Spoken Benediction
*Choral Benediction
"Venite Adoremus"
Postlude
Operational/Capital Campaign
Thank you to all of you who have made a commitment to the financial needs of our congregation. Funding is a real need, both for our ongoing ministries and programs as well as to retire our debt. We are daring to dream and are beginning to work to put our dreams into reality in the coming months as God leads! There is still time for you to make a pledge for our 2023 Operational Budget and to our 2023-2025 Capital Campaign to retire our debt. Commitment Cards are available in the Narthex and in the church office. You can also make your pledge online. May we all join together as we are blessed to be found faithful as God leads.
BPUMC Women's Retreat
Black Friday is this week, don't walk around the malls, shop the easy way! Think about the women in your life and treat them to a great experience with the women of BPUMC. Women, buy yourself a Christmas present. Get a weekend at The Women's Retreat on Jan 21st and 22nd at Camp Sumatanga with this year's theme called "The Well – Come – Surrender – Proclaim!" You'll be giving a great spiritual experience, along with a ton of just plain fun. Great discussions, hiking, cupcake decorating, bonfires, and fellowship are on the agenda. Right now costs are $125 to $175. Early bird registration ends on Nov 30th, so shop early. Register with Realm and if you need assistance contact Amy Baird amycbaird@yahoo.com or Julie Adams juliead40@gmail.com.
White Christmas Offering
Each Advent, our church takes up a special offering in support of Embrace Alabama Kids. This ministry began over 130 years ago as an orphanage. Today, it is one of the state's most comprehensive and vital resources serving babies, children, youth, teen mothers, college students, and families. Your gift will provide them with homes for the holidays—and every day—embracing them in the powerful and unconditional love of God. Assign checks or envelopes to "White Christmas Offering" in morning worship throughout Advent, or drop off your gift in our Financial Office. The White Christmas Offering is sponsored by the Bluff Park United Appeal Fund.
Choral Worship Service
On Sunday morning December 11th @ 10:00am the Chancel Choir will present The Oratorio de Noël, Op. 12, by Camille Saint-Saëns, also known as his Christmas Oratorio. The service will feature five professional soloists, three of whom are Mr. DeWeese's former students now singing professionally, Emily Yocum Black, soprano, Natalie Krumpansky, contralto, and Jacob Waid, baritone. The mezzo-soprano role will be sung by Dr. Emily Jaworski Koriath, voice faculty member at UAB, and Caleb Clark, local professional tenor from the Birmingham area. The work is scored in ten movements where the Chancel Choir will be singing on six of the movements. The work will be sung in English and will tell the story of the coming of the Christ Child from the account in the gospel of Luke. The soloist and choir will be accompanied by a professional string orchestra, harp and organ. This is an excellent time to invite family and friends to  our Sunday morning worship.
Children's Christmas Pageant
The annual Children's Christmas Pageant will be held next Sunday, December 4th from 5:00-5:30 in the Sanctuary! All are welcome to attend as the children of our church remind us all of the true meaning of Christmas!
Altar Flower Update
Beginning in January the cost of placing flowers in the Sanctuary will increase to $120. The increase is because the cost increased from our florist. Thank you to everyone who places flowers! They not only add beauty to our worship celebrations, but are also given to others by our flower ministry to help brighten their day!
Thank you for supporting the ministry and mission of our church family! Click the link below to give online safely and secure through Realm.
CLICK HERE TO GIVE
We would love to pray you. Submit a prayer request below and our team with be praying for you. You can also pray for other needs posted below.
Prayer List:
Ronda Carlisle, The Family of Bill Fields, Langston Haygood, Odessa Harbor, Pat Reese, Gail Cooch, Nathan and Alice Chase, Jean McLemore, Rosemary Hill, The Family of Frances Bellows, Glen McGarity and his family, Sylvia Harper and the family of Horace Pate, Marjorie Dulin, Joe Black and his family, Marvin Broome and his family, Sandra Morgan and her family, Carol Westbrook and Elizabeth Davis and their family, Sheree Beavers and her family, Bruce Cooper, Jennifer Johnston, Ann Bice, The family of Patricia Shanlever, The people of Ukraine, Pan and Michele Cahoon, Mark and Becky Blankenship, Matt and Pat Reeder, Barbara Wilson, Betsy Delionback, Catherine Hallmark, Ann Gilliland, Lisa Avant, Mildred Stokes, Pam Parker, Gayle Pierce, Joan Cook, Kandis Scudder, Jamie Howell, Jim Ketchersid, Juanita Knight, Peggy Williams, Myra Gray, Maya Wright, David Walker, Roxie and Larry Langham, Dot Watterson, Pauline Hendricks, Charlotte Word, John McCrary, Connie Steele.
Prayers for Our World:
Matthew 22: 37-39: Jesus replied: "Love the Lord your God with all your heart and with all your soul and with all your mind. This is the first and greatest commandment. And the second is like it: Love your neighbor as yourself. All the Law and the Prophets hang on these two commandments." As we enter a time of celebrations that centers around family and friends, let us remember that not all are blessed to look forward to these special times. Many are alone due to family estrangement, recent loss of a spouse or sibling, addictions that have led to separations from loved ones, incarceration, those who yearn to be with family but cannot due to military service, missionary work, or work schedules. Lord, help us to look with new eyes at our neighbors in need of friendship and inclusion and help us to open our hearts and homes to these brothers and sisters during this holy season and beyond.
Fill out the form and let us know how we can help you take your next steps at Bluff Park UMC! We'd love to connect you with a pastor.
Members and guests, please fill out this form to help us keep track of online weekly worship attendance. Include the names of each member of your household who participated in online worship with you.
Traditional Worship Staff